Samurai Jack Season 4 Episode 13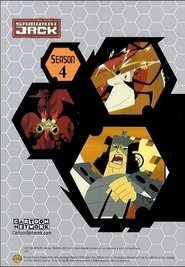 Samurai Jack Season 4 Episode 13
While peacefully enjoying a snack of peaches, Jack hears a baby cry and races to find out what's the matter. He rescues Baby from a crew of hungry (baby-eating) monsters.
The two then set off to find the baby's mother. Jack makes a great temporary parent, finding food, shelter, dealing with diapers. He tells Baby a bedtime story of Momotaro (Peach-boy, an archetypal Japanese folk-tale). When sick, Baby wants peaches; when they return to the peach orchard, the monsters find them again.
After the final defeat of the monsters, Baby's mother is found. When she notices a surprising change in her child, Jack explains the baby has achieved sakai, the spirit of the samurai.
Episode Title: Jack and the Baby
Air Date: 2004-09-25
Year: 2004